As women age, they experience uncomfortable symptoms as cellular health declines and triggers hormonal imbalance. Angel Longevity, near Valley Village, CA, offers bioidentical hormone replacement therapy (BHRT) to help alleviate these symptoms and promote lasting recovery.
Many women experience symptoms of aging in their 30s and 40s as hormone levels decline and women enter menopause. BHRT for women offers many benefits by restoring lost hormone levels and improving overall health:
Regulated body temperature
Improved mood
Stronger bones
Increased libido
Youthful appearance
Better metabolic function
Improved sleep quality
Bioidentical hormone replacement therapy is a natural solution to boost hormonal levels and prevent chronic health issues. BHRT is plant-based and mimics the body's naturally occurring hormones. Our hormone specialists will create a personalized treatment plan based on your unique health needs to balance the body and increase your health.
We Serve People Near Valley Village
We proudly bring our services to people near Valley Village, CA, and the nearby areas. Valley Village is minutes away from Studio City and is part of the greater city of Los Angeles. Our office is close to popular attractions like the Los Angeles Zoo or Universal Studios Hollywood.
Frequently Asked Questions About BHRT For Women
Many of our patients have questions about BHRT and how it can help them recover from chronic symptoms. Here are a few common questions we answer.
What Is BHRT?
Bioidentical hormone replacement therapy (BHRT) are artificial hormones that differ from synthetic hormones. Bioidentical hormones are made from plants and mimic the body's natural hormones. They help people who have low hormone levels or have a hormone imbalance. Estrogen, progesterone, and testosterone are hormones commonly included in this therapy.
Will BHRT For Women Increase The Risk Of Cancer?
While there is some fear of increased cancer risk with hormone therapy, this is related to synthetic hormones, often made with animal hormones. Natural hormones, like BHRT, can provide more protection against breast cancer than no treatment. Delaying treatment for hormonal imbalance increases the risk of chronic health issues. We can evaluate your healthcare needs to determine what is best for you.
How Long Will I Remain On BHRT For Women?
The timeframe of treatment is different for each patient. Some women stay on treatment for a few years; other women continue for much longer. Working with a qualified and experienced hormone specialist can help determine what is best for your body.
Depending on your medical history, type of hormonal imbalance, symptoms, and preferences, a hormone specialist will create a customized treatment plan to include the right therapy for you.
Contact Us Today For Help With BHRT For Women
If you need help balancing your hormones, contact Angel Longevity near Valley Village, CA, for help with BHRT for women. Our hormone specialists will create a plan to alleviate your symptoms and help you gain control of your health and wellness. We look forward to working with you and helping you recover.
The natural hormone combinations found through bioidentical hormone replacement therapy have been shown to decrease the risks of stroke and heart attack by 50% (Premarin and Provera increase it) and reduce the risk of breast cancer by 80% (Premarin and Provera increase it). Natural, bioidentical hormones also reduce the risk of osteoporosis by 50%, reduce the risk of Alzheimer's by 80%, reduce the risk of osteoarthritis by 40%, and reduce the risk of colon cancer by 40%.
One of the largest studies to date comparing the risk of breast cancer with the use of natural bioidentical hormones and synthetic hormone replacement therapy demonstrates that natural bioidentical hormones have significantly less associated risk of breast cancer. This study published in a 2007 issue of Breast Cancer Research reported the association between various forms of bioidentical hormone replacement therapy and the incidence of breast cancer in over 80,000 postmenopausal women who were followed for over eight postmenopausal years.
This study found that compared to women who never used any hormone replacement therapy, those who used estrogen-only (different preparations analyzed together) had an increased risk of breast cancer, that was 1.29 times those who never used estrogen. If a synthetic progestin was used in combination with estrogen, there was a significant increase in the risk of breast cancer compared to those on estrogen-only – or 1.69 times the risk of those who had never used estrogen.
If, however, a woman used natural progesterone in combination with estrogen, the increased risk of breast cancer was eliminated. In addition, estriol-containing products were found to have a further protective effect against breast cancers, resulting in a lower risk of breast cancer than even those who had never used any hormone replacement therapy. This study adds to the mass of previous medical literature that demonstrates the superior safety of bioidentical hormone replacement therapy compared to synthetic hormones.
Natural hormones: Protective against breast cancer
A combination of natural estrogens, estriol, and estradiol have been shown to protect against breast cancer and reduce breast cancer risk. When this is added to natural progesterone's powerful breast cancer risk reduction, one would expect a significant reduction in breast cancer in women on natural bioidentical hormone replacement therapy than in women on no therapy.
We believe our bioidentical hormone replacement therapy approach is more physiological and mimics nature. As such, it will not only relieve the symptoms of menopause but, very likely, can also improve overall health in menopausal women. Depending on a woman's personal and family medical history, the bioidentical hormone doctors at Angel Longevity Center may recommend estrogen, progesterone, or testosterone for your menopausal nightmare.
Take control of your long-term health
Our hormone specialists will not only improve your quality of life, but we will also assess your risk of developing cardiovascular conditions or cancer in the future. The laboratory evaluation of hormones is very thorough and may include a blood test, a saliva test, or a 24-hour urine test for a comprehensive hormone profile.
Once we achieve balance with bioidentical hormone replacement therapy, as a final check, we will require you to do a 24-hour urine test to evaluate your particular risk of breast cancer.
Dr. Mathur will determine if any nutritional supplementation or detoxification is required to modulate the metabolism of the hormones in your body by looking at 2:16 alpha hydroxyestrone ratio and estrogen quotient, as well as other metabolites.
Many factors interfere with hormone receptors and change the way a particular hormone is broken down in the body. This is properly assessed so as to further lower your risk of breast cancer. Getting your hormones balanced with our treatment plan actually reduces your risk by balancing even the breakdown products (metabolites) of these hormones effectively.
The Hormone Balance for Life
Program
The "Hormone Balance for Life" program balances your hormones for real. As a bioidentical hormone doctor, Dr. Mathur has years of experience diagnosing and effectively treating female hormonal imbalances.
Bioidentical hormone replacement therapy (BHRT) is an exact science and you deserve the best. Call us for a complimentary phone consultation today.
I started bio-identical hormone replacement therapy in January for hot flashes, night sweats, and "the jitters". Four months later, I have no hot flashes, no night sweats and I am more calm and happy, with a relaxed and peaceful energy! Thank you, Dr. Mathur.
- Michael, Los Angeles
I have been on this bio-identical hormone therapy for three months and I have noticed that I have more endurance. I last longer during the day. I can now walk farther each day. I am looking forward to continued improvement.
- Dorothy (83 yrs. old), Los Angeles
I have had severe pains in my lower back, groin, leg, knee and ankle, which were getting progressively worse for over a year. After two weeks on the bio-identical hormones prescribed by Dr. Mathur, the pains ceased 100%. If someone had told me that would happen, I wouldn't have believed it. It's now been over a month since I started and the pain has not come back.
- Kathy, San Fernando Valley
Although you can't make your biological clock run backwards, bio-identical hormone replacement therapy can handle some of the effects of the aging process so that you can have more energy and feel younger.
- Burleigh, San Fernando Valley
I started treatment here several months ago. When I first came in, I had three to four headaches every week, pain and cysts in my breast and so many gray hairs and cellulite. Now, my headaches are 90% better. I have less gray hair and less cellulite, and the horrible cysts in my breast are gone. The treatment with natural bio-identical hormones gave me a younger body. My process to become a 40-year-old woman was terrible to confront because of all the changes in my body. Now, I am a happy 40-year-old young lady. Thanks, doctor and thank you to your staff.
- Claudia, Los Angeles
I am Rigoberta Adams. I started with the Bio-identical Hormone program one month ago. I am usually a very stressful person. I saw my doctor (Dr. Mathur) one month later, and I told her I feel much better. I am doing the same stressful things, my schedule is very tight, but now I feel calmer and I have a lot more energy. She is surprised but happy.I am much better with this hormone program.
- Rigoberta A., San Fernando Valley
I've been doing the bioidentical hormone treatment for approximately one and a half months. I wasn't sure I'd stick with it because I had a lot of pills to take, which is not my favorite thing to do. But I managed it remarkably well and have achieved amazing results. I feel way better than I have in years. Pains have gone away. Hot flashes have pretty much gone. I have more energy and have confronted things that I put off for a long time. Looking forward to improving even more. Best thing that's happened to me in a long time. Thanks
- Carole S., Los Angeles
I have been seeing Dr. Mathur for a few months now and I already feel better, have more energy, and sleep better. I am looking forward to the next improvements that I anticipate with this program. Dr. Mathur is great!
- Y. P., San Fernando Valley
Learn how to overcome the uncomfortable symptoms of menopause, perimenopause, and female hormonal imbalances by calling menopause, perimenopause, and hormone specialist, Dr. Anju Mathur at (818) 961-2055 to set up an appointment. Complete the form below to schedule your complimentary phone consultation!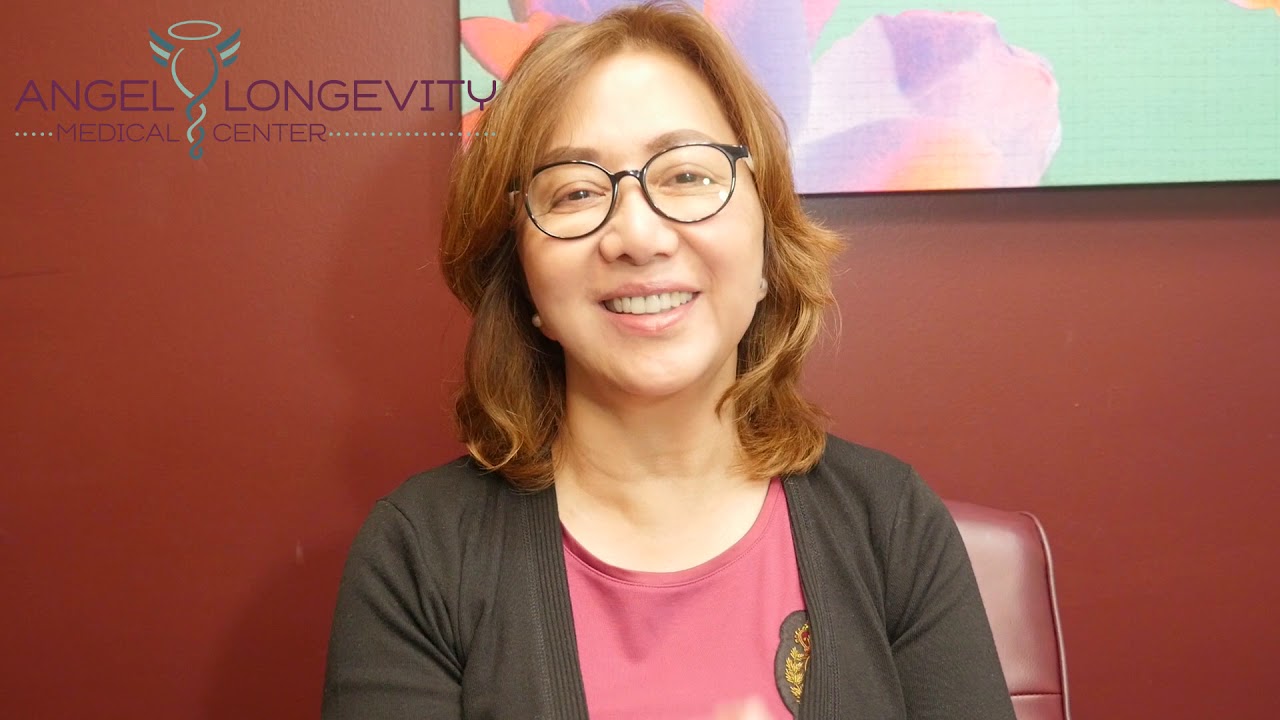 Schedule
Contact us now to schedule a free phone consultation with our new patient coordinator and find out if Angel Longevity is a good fit for you.
Message us
Schedule Counsultation