Vitamins are a very important part of our wellness program and treatment protocol at Angel Longevity Medical Center. As such, we would like to introduce our IV vitamin drip therapy treatments.
The power of IV drip therapy and
vitamin infusion
We have seen over the years that our IV therapy can be a powerful tool in conjunction with other therapies to help the body recover from many health issues. Intravenous (IV) nutrition is a method of feeding vitamins, minerals, and other natural substances directly into a patient's bloodstream, thus bypassing the digestive system.
This can be a huge advantage as it brings vital nutrition directly to the organ systems of the body. When substances are given orally, they must be processed through the liver, stomach, and intestines.
Many substances may be rendered inactive in the digestive tract, reduced in potency, or they may not be well absorbed due to poor intestinal function.
By directly administering nutrients to the body via vitamin drip, higher than normal blood levels of particular nutrients can be achieved, which may boost the immune system and supplement deficiencies. These increased levels can provide an immediate therapeutic response by correcting deficiencies that may arise from a disease state.
What conditions benefit from IV drip
therapy?
In general, our treatments of IV drip can help the following conditions for our clients:
Hypertension
COPD
Asthma
Fibromyalgia
Chronic fatigue syndrome
Diabetes
Hepatitis
Cancer
Neurological disorders
Autoimmune Disease
Rheumatoid Arthritis
Non-healing Wounds
Multiple sclerosis
Our infusions
There are many different types of IV therapy available and they can be used to effectively treat a variety of health problems. Some of these infusions include:
Vitamin C infusions
Vitamin C is required for a healthy immune system and healthy metabolic functions. This infusion can improve conditions such as poor immunity, cancer, fatigue, hepatitis, chronic viruses, and mononucleosis. It would be difficult to digest high dosages of this vitamin; however, an infusion allows it to last longer and creates a therapeutic effect.
Vitamin B IV therapies
Infusing Vitamin B can help patients increase immunity and energy, and it can improve PMS, migraines, muscle spasms, fibromyalgia, addictions, and post-traumatic stress syndrome. The body stores B12 to prevent anemia, and having healthy stores of other B vitamins can prevent disease and reduce the severity of existing conditions.
Glutathione
This is an important nutrient made up of three amino acids that are responsible for detoxifying cells and working to produce lymphocytes, which fight infections and viruses. It must be present for normal immune function to occur, and it can help the body strengthen itself against colds, the flu, cancer, viruses, and other illnesses.
Immune enhancement IV therapy
Immune enhancement IV vitamin therapy is a combination of high doses of vitamin C, B complex vitamins, magnesium, trace minerals and glutathione. When combined, they have the power to enhance the immune system.
IV infusion therapy allows us to bypass the digestive system and get vital nutrition to your organ systems right away.
The results can be spectacular. Below are some conditions that historically have responded very well to our immune enhancement IV therapy:
Flu
Gastrointestinal infections
Shingles
Mononucleosis
Lyme disease
Fatigue
Stress
Chronic illnesses
Preoperative support
Postoperative support
Cancer
Side effects of chemotherapy
Respiratory infections, including pneumonia
What is the Cost for IV Therapy?
The average cost of IV drips is generally $100 to $300 per treatment, depending the drip you are looking to get.
Our difference
Quality care. Life-changing wellness.
As an integrative functional medical center, we offer an inclusive wellness program that encompasses a number of therapies and treatment modalities, and we are completely committed to bringing our patients the best possible treatment against the root cause of their problems.
Dr. Mathur is also certified in anti-aging medicine by the American Academy of Anti-Aging and Regenerative Medicine. If you're interested in adding this to your program, Dr. Mathur will take note of this.
This comprehensive program follows a concierge medicine model, which allows us to provide you with as much of the doctor's time as needed to get to the underlying cause of your health problems and fine tune your treatment as necessary. It also allows us to give you preferential rates on your IV drip and other treatment protocols that may be recommended.
IV Therapy Testimonials
When I came in here four weeks ago I was really, really sick with the flu, a sore throat, and sinus plus asthma (Just shoot me! Ha!). The vitamin C intravenous sessions have been great- after each one, better and better. Just had my 10th and at last I am looking forward to doing things and having a future (healthy). This was exactly what I needed and I'm so happy I chose to come here. Everyone is great- thank you!
- Elfreda
I would like to thank Dr. Anju for what I would consider a miraculous recovery. When I went to the center last August I could not sit in a chair for 2 hours without getting exhausted. Thanks to vitamin C drips and the metabolic typing and vitamin program, I am easily working 8-10 hours a day, doing strenuous workouts on an elliptical machine and I have energy!!!! Thank you!!!!
- Bobby
This is only my sixth week of receiving vitamin C drips and I really see big changes. My blood pressure is normal, I have more energy, and my skin is not as dry as before. I feel good and I thank the doctor for all her help. I am fine seeing her and will continue to see her until all of my health issues are completely taken care off.
- Princi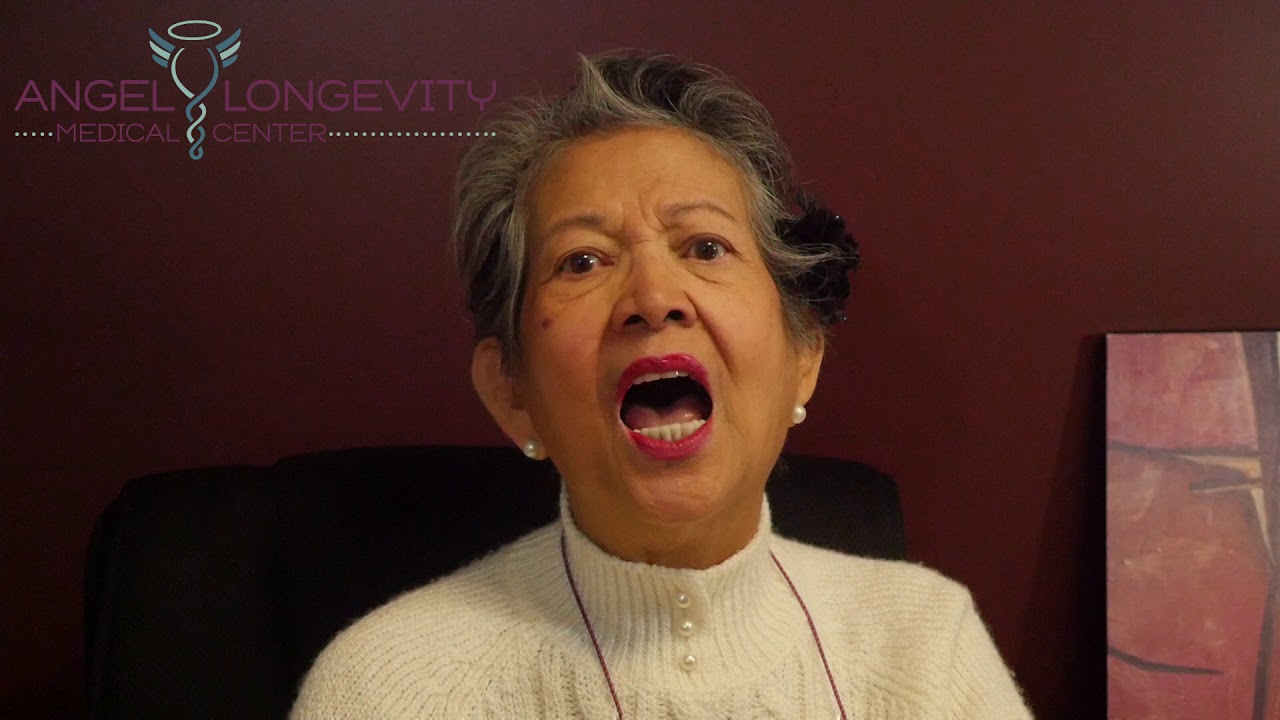 Schedule
Contact us now to schedule a free phone consultation with our new patient coordinator and find out if Angel Longevity is a good fit for you.
Message us
Schedule Counsultation